Chassis Fabrication
Just want to get things rolling?
Our workshop offers all stages of chassis fabrication from frame setup to a complete rolling chassis ready to place your body on. We are equipped with chassis jigs to make sure the setup is done right.
We specialise in building chassis for Hot Rods and Pickup's for both Ford and Chev.
L300 Front End Conversion – Jag Rear End Conversion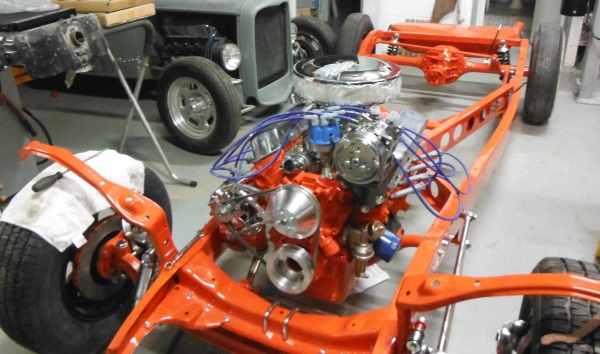 Chassis Components 
We offer the following components made to order:
–          Independent disc brake front end with power steering (for more info click on independent front end in services). Priced from $3,750 plus shipping. Get a price now
 –          Independent Jag Rear end conversion kit. Priced from $2,750 plus shipping. Get a price now
 –          Engine Mounts for Ford and Chev Pickup's. Priced from $450 plus shipping. Get a price now
 –          Gearbox mounts for Ford and Chev Pickup's. Priced from $150 plus shipping. Get a price now
 –          Spring mounted Borg Warner disc brake diff kit including mounting brackets for Ford and Chev pickups. Priced from $750 plus shipping. . Get a price now
 –          Chassis boxing plate kits for 1953-56 Ford F100. Priced from $500 plus shipping. Get a price now
 All components can be installed to your vehicle – Get a quote now