Want to stand out from the crowd?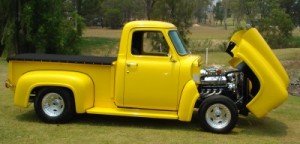 We offer a tilt bonnet hinge system for Ford F100 1953 –56 and for Chev 1946-59. Our system uses the original latching mechanism, with specially fabricated frame and hinge which bolts to the bonnet and uses an aluminium track and rollers to hold in place when closed.  
The tilt bonnet system includes:
–          Specially made frame and hinge.
–          Aluminium (plain or polished) track and plastic rollers to slide and hold in place when closing.
–          All brackets, bolts and fasteners required to install.
Priced from $850 plus shipping. Get a price now.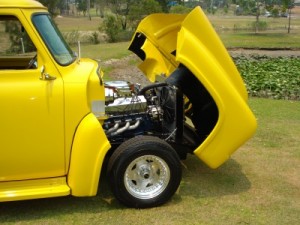 Complete Tilt front system (keep same page as tilt bonnet systems)
We also offer a complete tilting front kit for Ford F100 1953-56. This allows whole front of the vehicle to open and tilt forward in one motion, which opens up the whole engine bay.
The complete tilt front system includes:
–          All front panels are supplied in fiber glass. These are separate panels and not one piece.  Bonnet, front mud guards, inner guards, behind head light panels, radiator cover panel, grille and front valance/stone guard panel.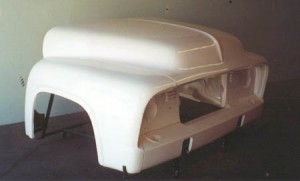 –          The specially made hinging system to tilt the front.
–          Latching mechanisms for closing.
–          All nuts, bolts and other brackets supplied for install.
–          Comes fully assembled.
Priced from $4,500. Get a price now